A five generations long Tradition
Through the correct use of the hand you develop an "artisan way of thinking", an ancient way of thinking, experienced, which develops concrete and sustainable economies, that we have the duty to preserve.
Dante Mortet
Sculptor, "cesellatore" and the heir of an ancient "artisan knowledge" together with his family, active for more than a century in their parlor in Rome, crafts the artistic reproduction of your hand.
Diary of an Artist
Stories, adventures and anecdotes. People in the show and music business and in sports. Dante Mortet makes us experience first hand his emotions during this encounters and process of his work. Bringing out the most human side of many international starts.
The Project
My idea is to make more or less famous hands and to relate them to each other in an exhibit of Sculpture Hands, where the diversity of them, is an example of the ability and industriousness of the hand.
Events
Stay updated on all the exhibitions, projects, events and manifestations of Mano Artigiana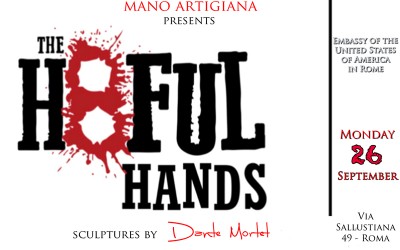 The American Embassy in Rome, home to Dante Mortet and his sculpture The Hateful Hand's, the presence of the highest offices of the American Embassy and important members of the Italian-American community, accompanied by live music by Ennio Morricone performed... read more
Mano Artigiana di Dante Mortet
via dei Portoghesi, 18 - 00186 Roma